"Go, therefore, and make disciples of all nations, baptizing them in the name of the Father, and of the Son, and of the Holy Spirit, teaching them to observe all that I have commanded you. And behold, I am with you always, until the end of the age." -Matthew 28:19
This Week's Holy Mass Schedule


Tuesday & Thursday: Noon
Wednesday & Friday: 8:30am
Saturday: 10am (1st Sat Monthly), 5pm
Sunday: 8:00am, 10:15am

Confession Schedule
Weekdays:
30 minutes prior to Holy Mass
Weekends:
40 minutes prior to Holy Mass


Eucharistic Adoration
Mary Morning Star Chapel


Mon-Sat: 6am – 8pm
Sunday: 4pm – 8pm


Children's Adoration:

3rd Wed Monthly, 3:30-4pm

24 Hour Adoration:

Last Wed Monthly, Noon-Noon*

*8pm Wednesday until Noon Thursday

will take place in the IHM Church

Parish Office Hours
Mon-Thurs: 9am-3:30pm

(closed noon to 1pm)

Friday: 9am – Noon

Dear Family of Faith,
Last weekend we celebrated the reception of Jesus for the first time in Holy Communion with 22 of our young children, and this weekend, one more child will be receiving his First Holy Communion. I have been very blessed to watch these boys and girls grow in their love for Jesus and in their belief in His True Presence in the Eucharist. I'd like to especially thank Marnie Harrington, our Director of Family Catechesis, for her hard work in preparing these children. I'd also like to thank Sister Sue Keim, our 2nd grade teacher, and Mrs. Callie Meiller, our school principal, for their faith in the Eucharist which has, without a doubt, inspired these students.
The Real Presence of Jesus in the Eucharist is at the heart of our Catholic faith, and it has sustained the Church since Jesus established her. We believe that, in the Eucharist, Jesus Christ is truly (yet mysteriously) present to us under the appearance of ordinary bread and wine. In the Eucharist, Jesus is physically and spiritually present with us -Body, Blood, Soul and Divinity. This is the greatest gift we could ever receive!
Each year our First Communicants teach us adults many valuable lessons, and we might recall the joy of our own First Holy Communion. Everything for this day is so deliberate – the clothes, the flowers, the pictures, the reverence, the period of catechesis, and even the joyful celebrations planned after the Holy Mass. They are important things in a celebration, but only if they are able to indicate the true motive of our joy: that Jesus gives us His Body and Blood! But also, let's not let these things be left only for our First Communion, but rather for EVERY Sunday. It does not make sense to only dress up nice for the First Communion and then next Sunday dressed for the basketball game. It does not make sense that our catechesis and learning about the Faith would stop after First Communion. Make every approach to the Eucharist like your First Communion – full of mystery, full of reverence, full of faith.
May you always know the Lord's Real Presence as you receive Him in Holy Communion.
Fr. Chad M. Droessler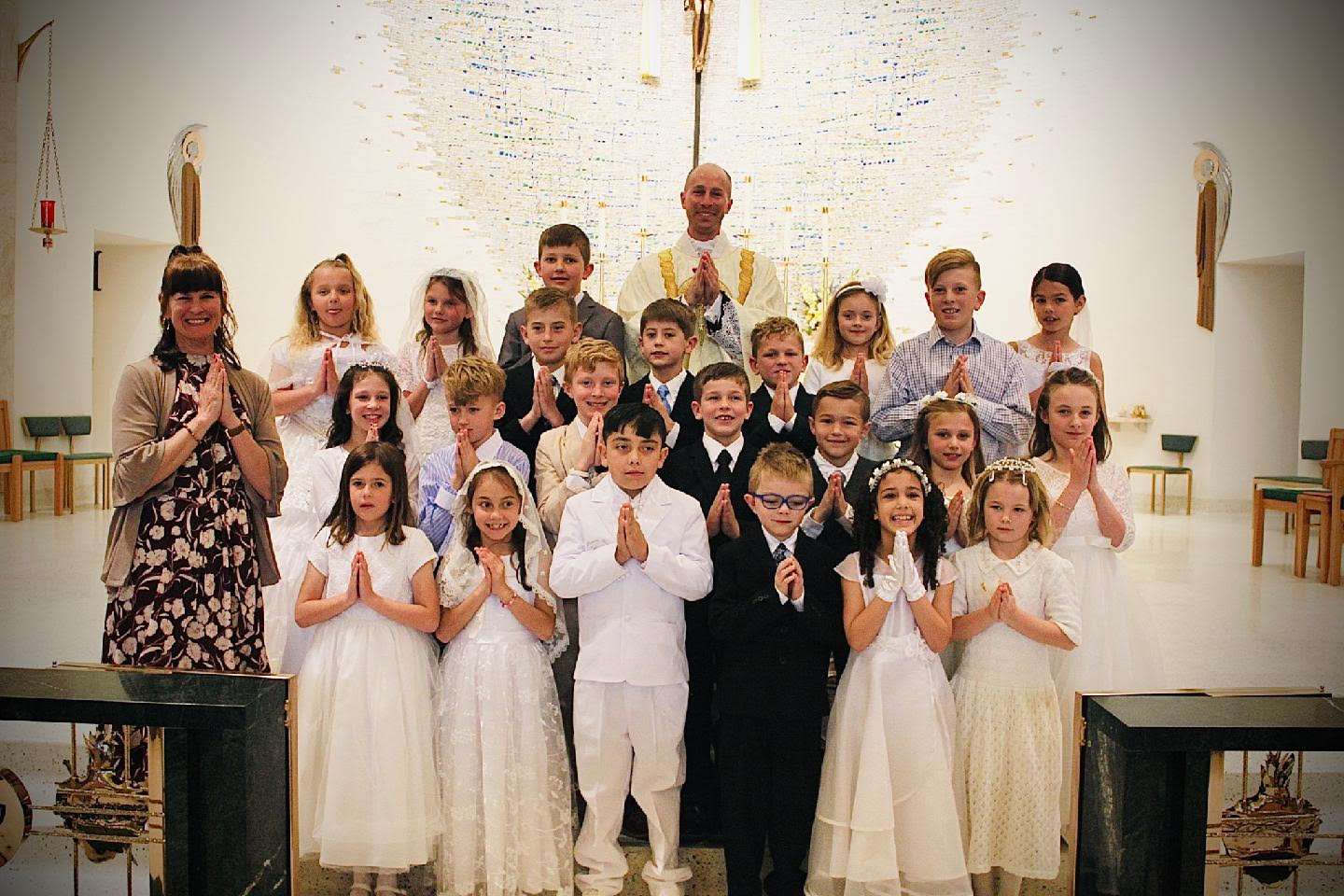 Welcome to the newest members of Immaculate Heart of Mary!
Chris Mattioli
Grace Ramos
Sophia Mattioli

Memorial Gift to IHM
A gift to the Immaculate Heart of Mary Scholarship Fund was received in memory of Dawn Ladik.
IHM Mulching
If you can spare part of your morning on Saturday, May 6 from 8am-noon to beautify our grounds it would be greatly appreciated! Mulch will be spread around the rectory, church and school. Bring your own shovel, rake, truck and/or trailer!
Usher Signup
Please
sign up here
to ensure we have adequate coverage.
Mother's Day Rose Sale
St. Anne's will be selling roses after all Masses Mother's Day weekend May 13/14. Please consider volunteering! Sign up
here
or contact Mary at 608-221-1926.
Deepen Your Faith with the Catholic Herald
This week's issue focuses especially on topics related to Human Dignity and features a series of articles leading up to this fall's Eucharistic Congress. Sample issues can be found in the narthex. To subscribe please contact Jodi at the Parish Office at 608-221-1521 or
ihmoffice@ihmparish.org
.
Seeking Children's Prize Donations
The parish is in need of prizes for the faith formation summer programs serving youth in our parish in grades PreK-6th grade. Donations can be dropped off at the Parish Office or ushers room and clearly labeled "prizes".
St. Anne's Membership Meeting
On May 2 at 5:30pm St. Anne's will host their annual May potluck and baby shower to collect donations for Babies and Beyond in Marian Hall, all women of the parish are invited. Please bring a dish to pass! Contact Teri with questions at 608-206-5144 or
tkkuntzsch@gmail.com
. Items in most need this month at Babies and Beyond are: formula, baby equipment, bags (paper grocery, garbage, quart storage ziplocks) & diapers size 6 (all sizes are accepted, however, size 6 is low!).
Wednesday Formation Night
On May 3 at 6pm, join us for a potluck in Marian Hall!
Let Us Worship Concert
Join Sean Feucht at the State Capitol this Friday, May 5 at 5pm! Sean has been touring the country with free concerts to awaken the Church in America and bring back a spirit of worship.
Click here
for details.
Walking with Moms Celebration
On May 6 from 10am-1pm, you are invited to join Walking with Moms at Holy Name Heights, 702 S. High Point Rd in Madison for Holy Mass with Bishop Hying and a morning of celebration and collaboration for parishes participating in Walking with Moms in Need in the Diocese of Madison! For more information, to get involved or to RSVP, please email
wwminmadison@gmail.com
.
Mass and Rosary Procession
Join Bishop Hying and Father Michael Radowicz for the 90th Rosary Procession on Sunday, May 7 at St. Bernard's Catholic Church, 2438 Atwood Avenue in Madison. The Rosary Procession and May Crowning will follow the 10am Mass.
Food Drive
The Madison SVdP Youth Service Council is putting on a food drive Sunday, May 7 1-3:30pm at Vilas Park. They are hoping to collect one ton (2,000 lbs) of food and personal essentials. Bring your nonperishable food, personal care items and diaper donations to Vilas Park on Sunday, May 7 between 1:00 – 3:30 p.m. Enjoy the beautiful view and snacks while weighing in your donations!
Transitional Diaconate Ordination Mass
The Transitional Diaconate Ordination Mass will take place at IHM on May 12 at 7pm. We are in need of volunteers, food donations and monetary donations for the reception that will follow! Thank you to the following ministries who will be leading this effort: Vocations Committee, St. Anne's, and Knights of Columbus! Monetary donations should be labeled as "Ordination Reception" and placed in the collection basket or the Parish Office. These funds will be used to purchase cake, punch, plates/silverware, and coffee for the event. Contact Teri with questions at 608-206-5144 or
tkkuntzsch@gmail.com
. Please
sign up here
.
Madison Catholic Woman's Club
Are you a Catholic woman looking for a sense of shared purpose? Want to meet other Catholic women that share your values and want to make a difference? Visit
here
to learn how to become a member! MCWC invites all women of the Diocese to attend their final luncheon of the season on Tues, 5/16 at noon at the Park Hotel, 22 S. Carroll Street, Madison. Contact Theresa with questions at 608-616-5251 or
turzagaste@gmail.com
.

RaiseRight gift cards are available for purchase after Mass this weekend, in the parish office during office hours and online at
RaiseRight
. You get the full amount of the gift card you purchase AND the parish and school receive a rebate!
The RaiseRight App makes ordering gift cards super quick and easy; email
scripihm@gmail.com
if you'd like assistance setting up the app on your phone.
---

Tuesday: Intercession of Mary


Wednesday: † Doris Lahey
Thursday: † Fiscus FamilyFriday:

Increase in Vocations


Saturday (10am): Intentions designated by Fr. Chad

Saturday (5pm):

†

Joseph Blaser


Sunday (8am)

† Delores Frome




Sunday (10:15am)

Parishioners of IHM

Weekly Readings

---

Monday:

Acts 11:1-18/John 10:11-18


Tuesday:

Acts 11:19-26/John 10:22-30


Wednesday:

1 Corinthians 15:1-8/John 14:6-14


Thursday:

Acts 13:13-25/John 13:16-20


Friday:

Acts 13:26-33/John 14:1-6


Saturday:

Acts 13:44-52/John 14:7-14

Sunday:

Acts 6:1-7/1 Peter 2:4-9/John 14:1-12
Offertory Giving as of April 23
Offertory Goal YTD $661,538.46
Actual Offertory Rec'd $769,531.63
Difference $107,993.17 Contact us!
5101 Schofield Street
Monona, WI 53716
608.221.1521