"Go, therefore, and make disciples of all nations, baptizing them in the name of the Father, and of the Son, and of the Holy Spirit, teaching them to observe all that I have commanded you. And behold, I am with you always, until the end of the age." Matthew 28:19
This Week's Holy Mass Schedule


Tuesday: Noon
Wednesday, Thursday & Friday: 8:30am
Saturday: 5pm
Sunday: 8:00am, 10:15am

Confession Schedule
Weekdays:
30 minutes prior to Holy Mass
Weekends:
40 minutes prior to Holy Mass


Eucharistic Adoration
Mary Morning Star Chapel


Mon-Sat: 6am – 8pm
Sunday: 4pm – 8pm


Children's Adoration:

Third Wed. Monthly, 3:30-4pm

24 Hour Adoration:

Last Wed Monthly, Noon-Noon*

*8pm Wednesday until Noon Thursday

will take place in the IHM Church

Parish Office Hours
Mon-Thurs: 9am-3:30pm

(closed noon to 1pm)

Friday: 9am – Noon

To the Faithful of Pastorate 26,
Praised be Jesus Christ! Greetings from your new parochial administrator (Fr. Chad), priests (Fr. Bill and Fr. Mark), and Deacon Jeff! While we will not officially begin our new role until July 1, 2023, we wanted to take this opportunity to communicate some very important information about the Mass and Confession schedule for the entire pastorate which will begin on July 1.
After consultation with your outgoing pastor, the new priest team, and key staff members, you will notice that there are some changes to the Mass schedule familiar to you. Each church site will be hosting two Sunday Masses on a weekend (Saturday/Sunday). With that, each church site will drop one weekend Mass. We apologize if one of the Mass times you frequented was changed. In that case, we ask for your openness and extra effort of faith to find that Mass time being offered at another church site in our pastorate. In all cases, if a Mass time was dropped at one site, that same time, if not close, is being offered at another church location in our pastorate.
While this new Mass and Confession schedule will be in effect beginning July 1, it will need to be reevaluated as we continue with our Into the Deep Strategic Plan. As parishes are merged sometime next year, it will be important to recall some of the goals of the plan concerning our liturgies: 1) to reclaim the Sabbath and Eucharist as the center of parish life; 2) to have more than 50% of our liturgies at greater than 50% capacity; 3) to have better coordination between parishes with Mass times, Confession times, etc.; and 4) to have no more than 3 weekend Masses per priest. Thus, while this initial schedule is meant to serve us as we begin our pastorate, it will need to be evaluated and changed down the road to ensure we are meeting the goals of Into the Deep.
A special word of thanks to your outgoing pastor for letting us share this news with you. We look forward to working with you next month and pray that all of you will continue to be filled with life and love of the Most Holy Trinity.
In Christ,
Fr. Chad M. Droessler (Parochial Administrator)
Fr. Bill Van Wagner (Parochial Vicar)
Fr. Mark Foley (Parochial Vicar)
Deacon Jeff Bond (Permanent Deacon)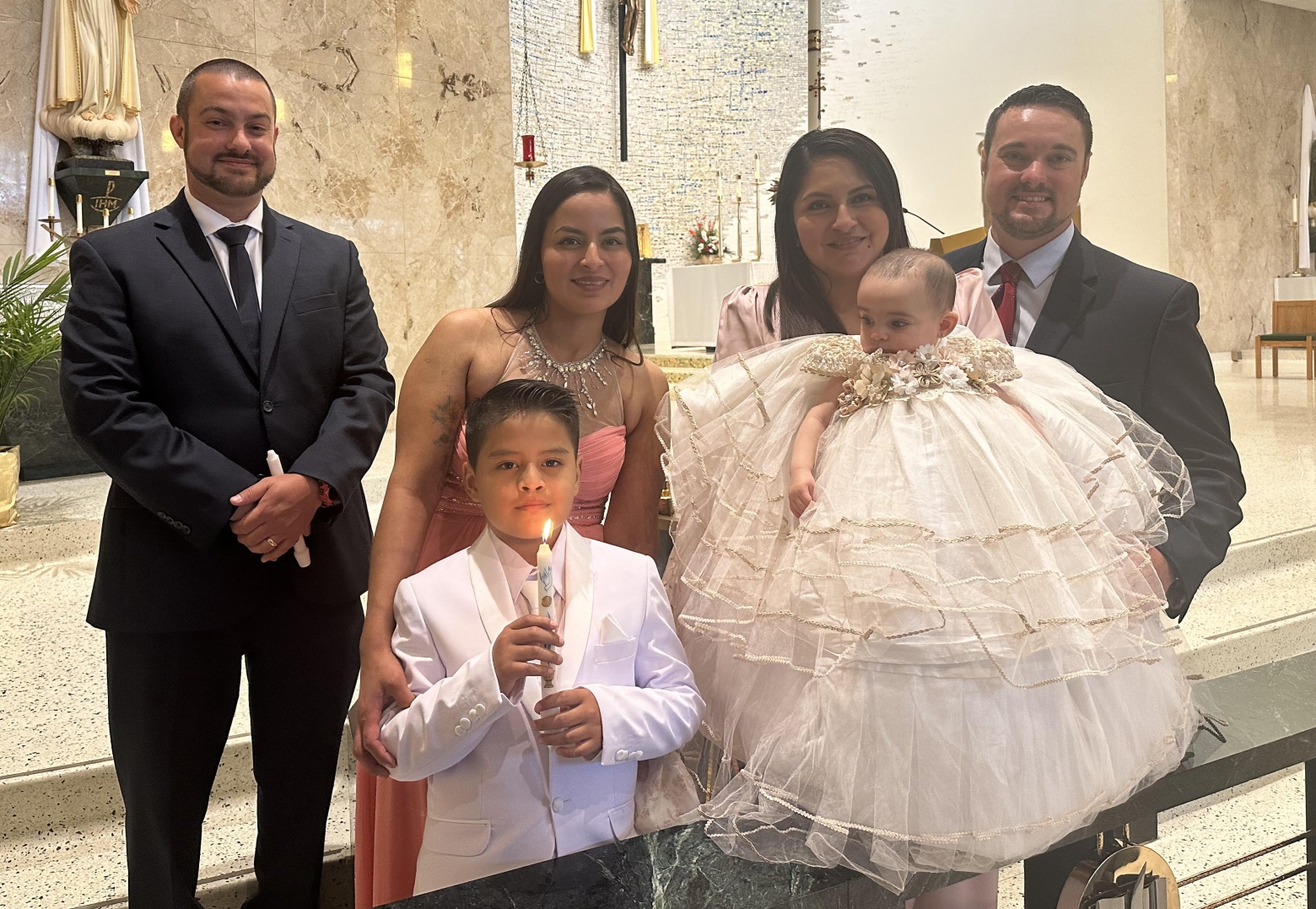 Congratulations and God's blessings to Sophia Mattioli and Derlis Ramos who were baptized last Sunday!
Hospitality this Weekend
Please join us for Hospitality after all Masses this weekend. Reconnect with your parish family and enjoy a sweet treat. Hospitality is complimentary and is made possible from a generous donation from an anonymous parish family.
IHM School Prayer Partners
A big thank you to this year's inaugural Prayer Partners who prayed for IHM School each and every day of the 2022-23 school year!!! We hope you'll consider joining us in this prayer ministry next year. Stay tuned for the sign up in August!
Email Phishing Scams
Please be aware of email phishing scams that come across as a correspondence from Fr. Chad or other IHM employees asking for financial assistance. These emails use our names, but do not come from our email server. All emails from IHM employees end in "
ihmparish.org
" or "
ihm-school.org
". There isn't a way to prevent these scams, so it is very important you remain vigilant. We will not ask for financial assistance or information over email.
Usher Volunteer Needed for Sunday 10:15am Masses
We are especially in need of ushers and a few more leaders for our 10:15am Mass. Please
sign up here
.
Join Us to Celebrate Sunday June 18

Fr. Chad Droessler extends a warm invitation to celebrate the Feast of the Immaculate Heart of Mary and Green Scapular devotion on Sun June 18 at 10:15am for Holy Mass with Bishop Hying. A picnic lunch on the church grounds will follow Mass. A plenary indulgence is available under the usual conditions for those who make a pilgrimage to the Shrine for its patronal feast.
Learn more here.
To bring a dish to share, please sign up
here
.
Faith-Filled Adult Chaperones Needed
Faith-filled adult chaperones (21 years or older) are needed to accompany our high school students to Love Begins Here 6/18-6/23 at St. Henry in Watertown. LBH provides youth with an opportunity to encounter Jesus through a week long, overnight mission trip where they live in Catholic community and serve together at a common host site in our diocese. Adults need to be Virtus-trained prior. Please contact Rebekah at
rscaperlanda@ihmparish.org
as soon as possible!
Thursday Adorer Needed
The Seven Sisters Apostolate group for our pastorate is in need of an adorer to pray a holy hour for Fr. Chad's intentions on Thursdays beginning June 22 for the following twelve months. This is open to women, and subs are available when needed. Contact Kelly for details:
kellybond4@icloud.com
or 608-445-0893. Go to
https://sevensistersapostolate.org
to find out more about this worldwide apostolate.
Vacation Bible School Registration

Strengthen your child's Catholic faith this summer at Vacation Bible School (VBS)! It will take place at IHM Mon-Fri 7/17-7/21 for all children from our pastorate going into 4K-6th Grade! The theme is Cathletics: Training to be Champions for Christ! It is an Olympic/Sports-themed program, where children will be inspired to set GOALS and AIM for a commitment to excellence in their Catholic faith. We will need adult volunteers and youth volunteers (7th Grade and up)! More information can be viewed here.
Mary Morning Star Chapel
Our Lord desires closeness with you – whether it is by praying the rosary, talking to Jesus or sitting in silence. Adoration takes place Mon-Sat from 6am-8pm and Sun 4pm-8pm in the Mary Morning Star Chapel. Adorers are welcome to drop in. See the sign up sheet to view open times and make a weekly commitment. Current needs are: Tues 3pm & 5pm, Fri 6am & 7pm, Sun 3pm & 5pm. If the available hours do not work, please feel free to commit to a time that works for your schedule!
Prayer Shawls
A group of IHM ladies have made beautiful prayer shawls for those experiencing a challenging life situation, such as: a critical/terminal illness, a pending surgery, bereavement, loss, or loneliness. The ladies prayed for the recipient while making them, hoping the prayer shawl will provide a tangible encounter of God's love and show our parish's care and concern. Please contact the parish office at
ihmoffice@ihmparish.org
if you would like to pick one up for a parishioner.
Music Opportunities

The IHM Choir provides music for the 10:15am Sunday Mass and rehearses on Thursdays from 7pm-8:30pm. The choir is open to all adults, no audition or singing experience necessary! Any parishioner (child, adult, or school student) with piano experience is eligible for free organ lessons through the parish. Please contact Michael at
mmills@ihmparish.org
for more information.
Catholic Books & Resources
If you're looking for inspirational Catholic books and CD's, please visit the kiosk in the narthex. We ask that you help cover the cost by using the envelopes provided and place them in the offertory collection. There are books that can be borrowed; they are labeled as such and located on the lower shelf.
Mass at Resurrection Cemetery
Please join us in praying for the dead. 10am Holy Mass on June 16 at the Resurrection Cemetery Chapel, 2705 Regent St., Madison. Msgr. James Bartylla will be the celebrant.
Boys Retreat
Catholic High School Announcement
Chesterton Academy – Queen of Martyrs, a Catholic high school featuring a classical curriculum will be opening in Fall 2024 in Sun Prairie! An information session will be held Tues 6/13 at 7pm at St. Albert the Great in Sun Prairie. To register for the event, visit ChestertonQofM.com.
Grieving Mothers Retreat
Registration is now open for Seen, Known, Loved: A Virtual Retreat for Grieving Mothers on June 9-10.
Register here
.
Pro-Life Event – 6/24
June 24 marks one year since the historic Dobbs decision which overturned Roe v. Wade. The largest pro-life event in our state will occur Sat June 24 with a 1:30 pm Rally and 2:15pm March at the Wisconsin State Capitol by the State St steps. Register by Mon 6/12 at ProLifeWI.org/marchforlife.
Totus Tuus in McFarland
Join Fr. Mark Foley and the Totus Tuus team for a summer catechetical program called Totus Tuus! It is for Catholic youth in Grades 1-12. It is dedicated to the proclamation of the Gospel and promoting the Catholic faith through evangelization, catechesis, apologetics, Christian witness, the sacraments, Marian devotion, and Eucharistic adoration. Grades 1-6 will take place at Christ the King 7/10-7/14 and grades 7-12 will take place 7/9-7/13. Volunteers are needed!
More information can be viewed here
.
Eucharistic Revival
Jesus is present in the Eucharist in His totality and He calls us to an encounter with Him in the Eucharist. It's time to answer Christ's call! In response to Christ's call, on Corpus Christi, 2022, America's Bishops inaugurated a National Eucharistic Revival
to renew and deepen our relationship with Jesus in the Holy Eucharist. The Madison Diocese joins this national revival with its own Congress. So, mark your calendar for our first-ever, Madison Diocesan Eucharistic Congress
– a joy-filled, spiritual weekend dedicated entirely to Jesus' Eucharistic glory and to our encounter with Christ. This will take place 9/29-10/1 at St. John the Baptist in Waunakee. There is no cost to attend.Visit the
website
for more details, see the weekend schedule and to pre-register!

Earn a rebate for IHM simply by buying gift cards to use for everyday purchases, instead of cash or credit cards. You get the full amount of the gift card you purchase AND the parish & school receives a rebate! RaiseRight gift cards are available using the
smartphone app
,
online
, in the parish office during office hours, or in the Narthex after Mass on June 10/11. Buying gift cards using the app is quick and easy! Stop by if you'd like assistance setting up or navigating this app on your smartphone.
---

Sanctuary Lamp: † Joseph Blaser
Tuesday June 6: † Wanda Gindt


Wednesday June 7: † Debbie Piazza


Thursday June 8: † Carole Storm


Friday June 9:

†

Fr. J. Darryl Furlong


Saturday June 10 (5pm): Parishioners of IHM


Sunday June 11 (8am):

†

Vivian Heidman


(10:15am): † Ed Gile


---

Monday:

Tobit 1:3; 2:1-8/Mark 12:1-12


Tuesday:

Tobit 2:9-14/Mark 12:13-17


Wednesday:

Tobit 3:1-11, 16-17/Mark 12:18-27


Thursday:

Tobit 6:10-11; 7, 9-17; 8:4-9/Mark 12:28-34


Friday:

Tobit 11:5-17/Mark 12:35-37


Saturday:

Tobit 12:1, 5-15, 20/Tobit 13:2, 6-8/Mark 12:38-44




Sunday: Deuteronomy 8:2-3, 14-16/1 Corinthians
10:16-17/John 6:51-58
Please consider the
IHM Endowment Fund
in your will. Gifts to the Endowment Fund are invested – never spent – while the income from the fund is used to support the school and religious education programs.