"Go, therefore, and make disciples of all nations, baptizing them in the name of the Father, and of the Son, and of the Holy Spirit, teaching them to observe all that I have commanded you. And behold, I am with you always, until the end of the age." Matthew 28:19
This Week's Holy Mass Schedule


Tuesday & Thursday: Noon
Wednesday & Friday: 8:30am
Saturday: 10am, 5pm
Sunday: 8:00am, 10:15am

Confession Schedule
Weekdays:
30 minutes prior to Holy Mass
Weekends:
40 minutes prior to Holy Mass


Eucharistic Adoration
Mary Morning Star Chapel


Mon-Sat: 6am – 8pm
Sunday: 4pm – 8pm


Children's Adoration:

Third Wed. Monthly, 3:30-4pm

24 Hour Adoration:

Last Wed Monthly, Noon-Noon*

*8pm Wednesday until Noon Thursday

will take place in the IHM Church

Parish Office Hours
Mon-Thurs: 9am-3:30pm

(closed noon to 1pm)

Friday: 9am – Noon

Dear Family of Faith,
As we approach the joyful and significant feast of Pentecost, we are reminded of the wondrous outpouring of the Holy Spirit upon the early disciples and the birth of the Church. This extraordinary event continues to resonate with profound meaning in our lives as Catholic faithful.

Think of the transformative power of the Holy Spirit. If the Holy Spirit could transform fearful, ordinary fishermen, into courageous missionaries, think of what He can do to us.
All week long I've been praying the original novena to the Holy Spirit, the whole Church has been praying for the gifts of wisdom, understanding, knowledge, counsel, fortitude, piety, and fear of the Lord. These gifts enable us to live virtuous lives and respond faithfully to God's call.

In just over a month our parish will come together to be part of Pastorate 26. The powerful wind and tongues of fire that accompanied this divine visitation signaled the beginning of a new era, empowering the disciples to boldly proclaim the Gospel to the ends of the earth. Please God, our new Pastorate will have this same fervor given to the Apostles, directed toward mission, animated by the Spirit.
May the Holy Spirit descend upon us and renew the face of the earth!

Fr. Chad M. Droessler
Congratulations to newlyweds, Tim & Sara Whitney! And God's blessings to Louis, Collin and Dominic who were baptized last weekend!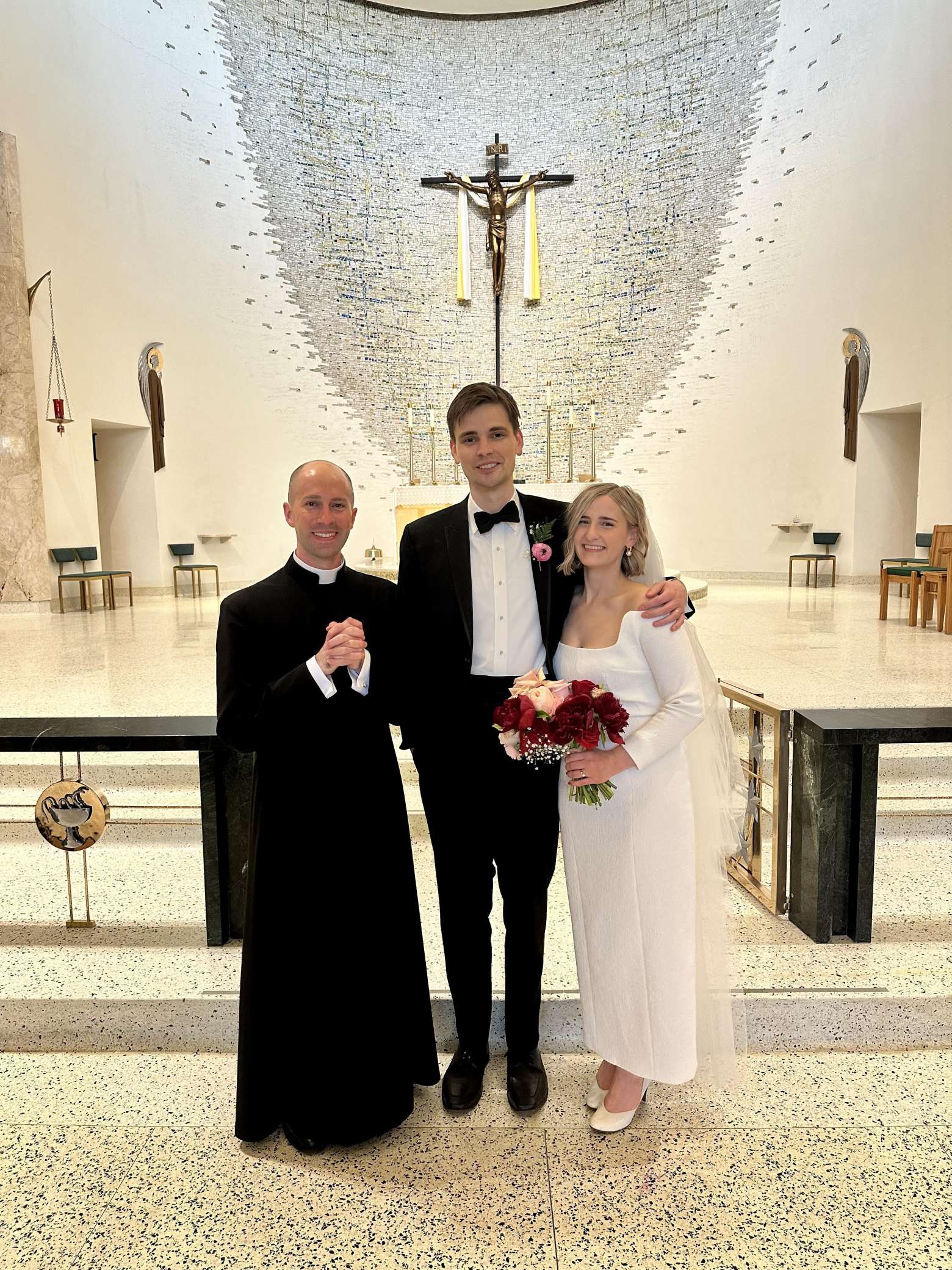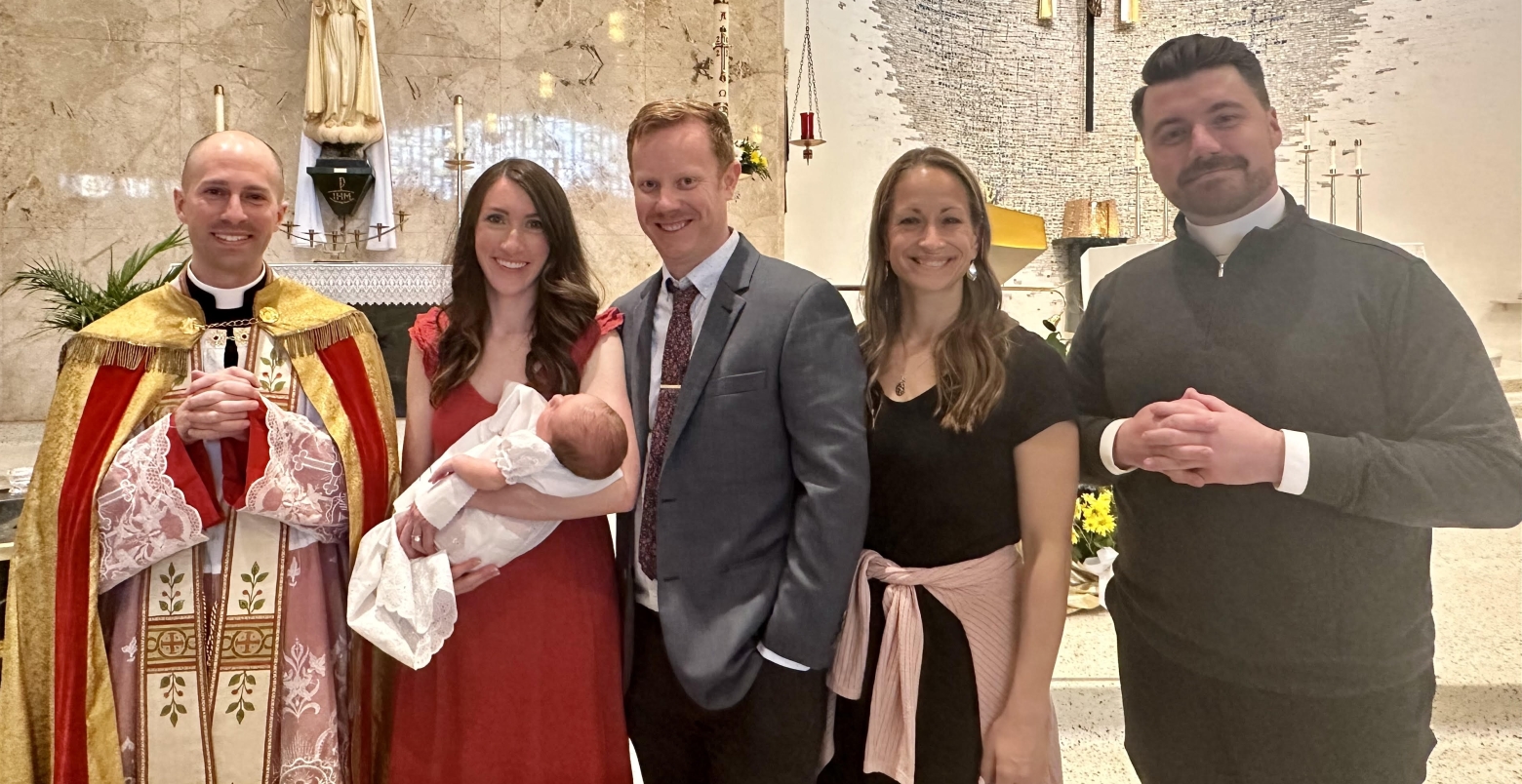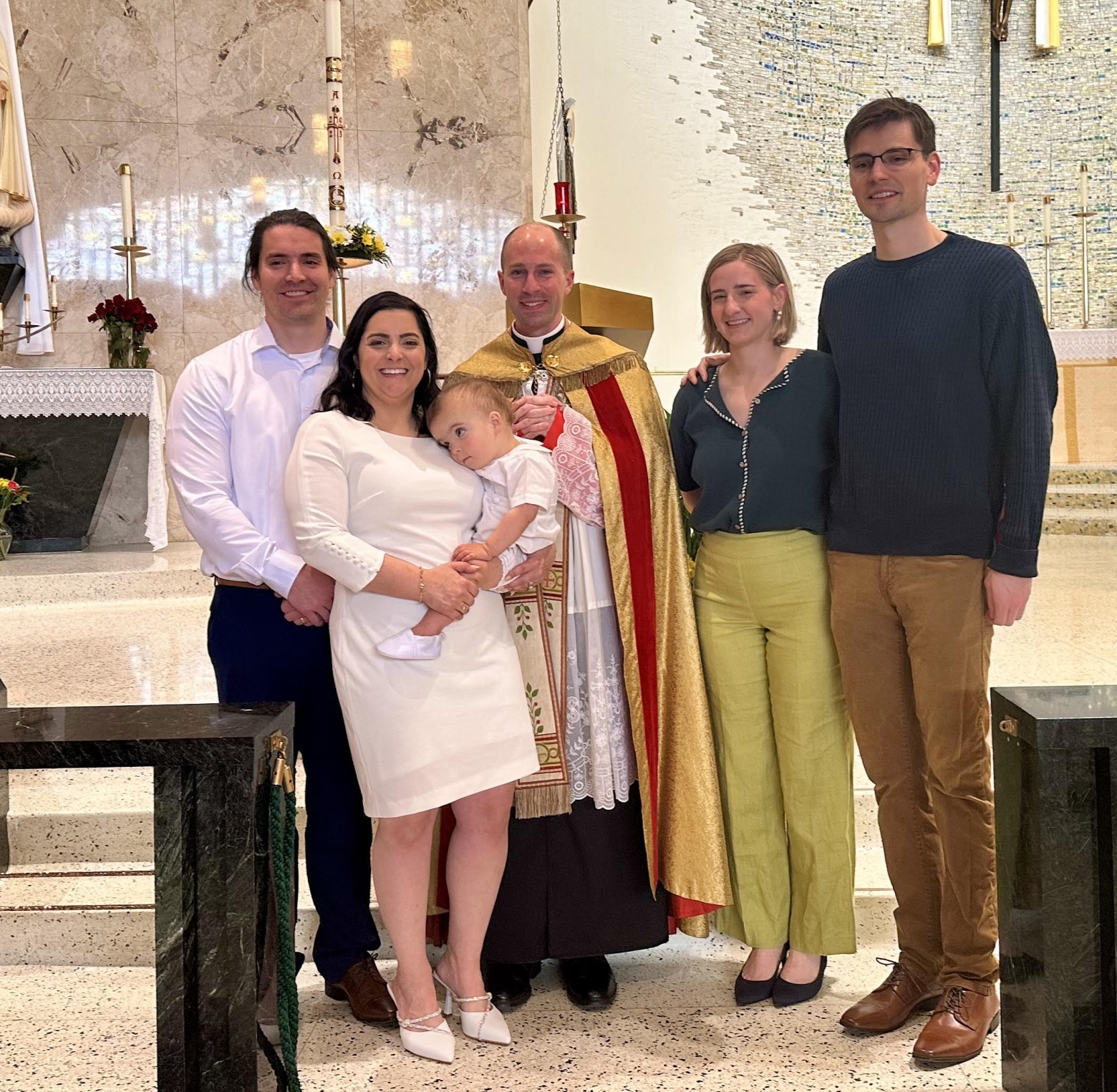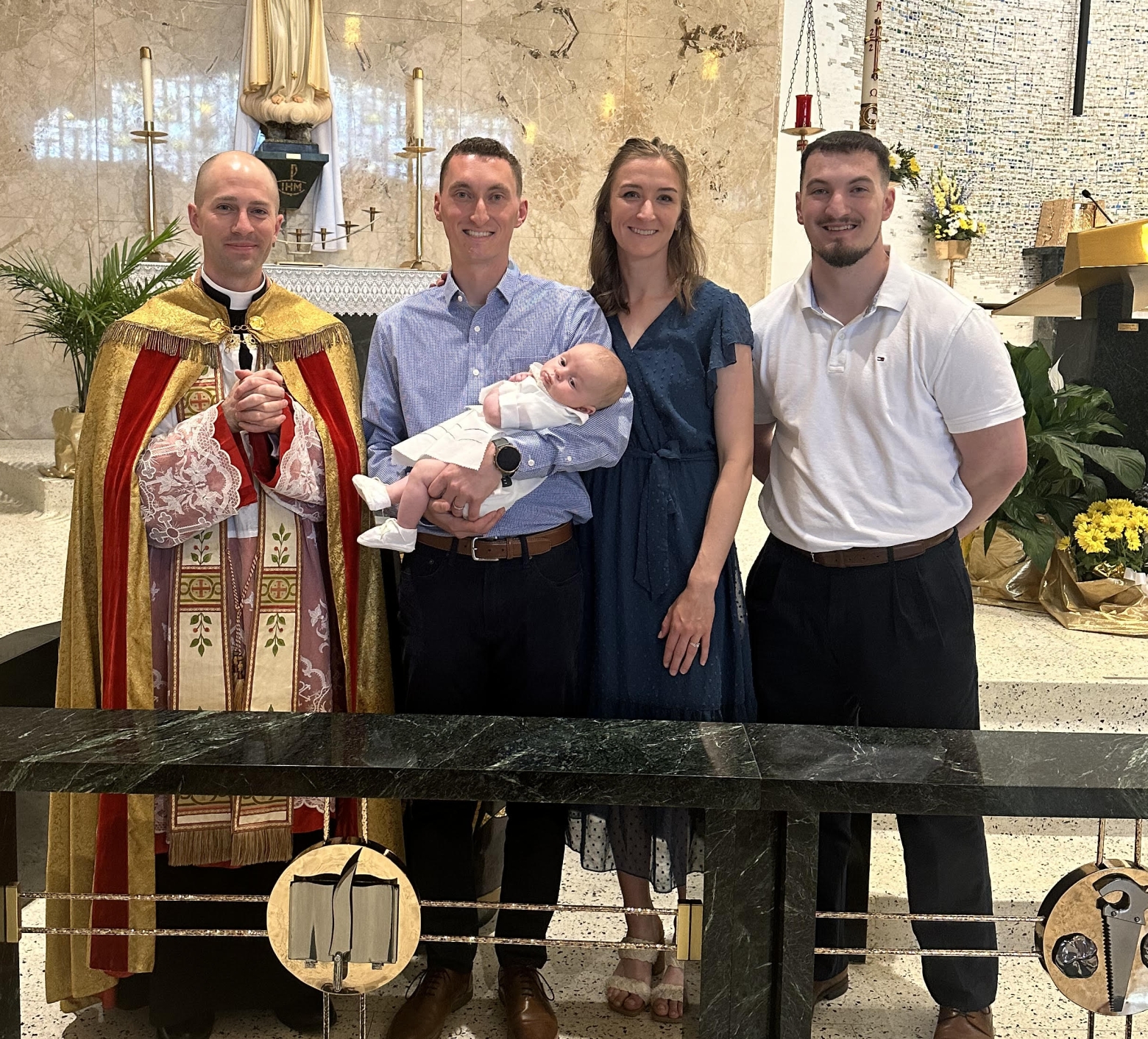 Congratulations to Bernie & Kathy Heit!
Their son, Joseph, was ordained to the priesthood May 20 by Archbishop Listecki. Fr. Joseph will begin his first assignment at the downtown family of parishes in Milwaukee, including St. John the Evangelist Cathedral. Pray for Fr. Joseph!
Usher Volunteer Needed for Sunday 10:15am Masses
We are especially in need of ushers and a few more leaders for our 10:15am Mass. Please
sign up here
.
Thursday Adorer Needed
The Seven Sisters Apostolate group for our pastorate is in need of an adorer to pray a holy hour for Fr. Chad's intentions on Thursdays beginning June 22 for the following twelve months. This is open to women, and subs are available when needed. Contact Kelly for details:
kellybond4@icloud.com
or 608-445-0893. Go to
https://sevensistersapostolate.org
to find out more about this worldwide apostolate.
Eagle's Nest
The Eagle's Nest is where you can purchase, swap or donate gently-used uniforms. This is a great time to donate uniforms if your child is graduating or if they have outgrown them. Uniforms can be placed in the bin outside of the school office, or labeled and put in the usher's room.
Graduation Mass
Our 8th grade graduation will take place on Thursday, June 1. The parish is invited to join the graduates for Holy Mass at 6:00pm.
Tailgate Party Potluck
IHM School's "EdCo" (formerly known as Home School Association) is hosting a Tailgate Party Potluck on Fri June 2 from 5-7:30pm near the IHM playground. All parishioners are welcome to join! There will be outdoor volleyball and fellowship. Sign up to bring a dish to pass
here
and
RSVP here
.
Faith-Filled Adult Chaperones Needed
Faith-filled adult chaperones (21 years or older) are needed to accompany our high school students to Love Begins Here 6/18-6/23 at St. Henry in Watertown. LBH provides youth with an opportunity to encounter Jesus through a week long, overnight mission trip where they live in Catholic community and serve together at a common host site in our diocese. Adults need to be Virtus-trained prior. Please contact Rebekah at
rscaperlanda@ihmparish.org
as soon as possible!
Vacation Bible School Registration

Please register by 6/1 for this early bird pricing! Strengthen your child's Catholic faith & grow in community this summer at Vacation Bible School (VBS)! It will take place at IHM Mon-Fri 7/17-7/21 for all children going into 4K-6th Grade! The theme is Cathletics: Training to be Champions for Christ! It is an Olympic/Sports-themed program, where children will be inspired to set GOALS and AIM for a commitment to excellence in their Catholic faith. We will need adult volunteers and youth volunteers (7th Grade and up)! More information can be viewed here.
24-Hour Eucharistic Adoration
Adorers needed Wed May 31 – Thurs June 1. Please
sign up here
. A few spots remain!
Mary Morning Star Chapel
Our Lord desires closeness with you – whether it is by praying the rosary, talking to Jesus or sitting in silence. Adoration takes place Mon-Sat from 6am-8pm and Sun 4pm-8pm in the Mary Morning Star Chapel. Adorers are welcome to drop in. See the sign up sheet to view open times and make a weekly commitment. Current needs are: Tues 3pm & 5pm, Fri 6am & 7pm, Sun 3pm & 5pm. If the available hours do not work, please feel free to commit to a time that works for your schedule!
Prayer Shawls
A group of IHM ladies have made beautiful prayer shawls for those experiencing a challenging life situation, such as: a critical/terminal illness, a pending surgery, bereavement, loss, or loneliness. The ladies prayed for the recipient while making them, hoping the prayer shawl will provide a tangible encounter of God's love and show our parish's care and concern. Please contact the parish office at
ihmoffice@ihmparish.org
if you would like to pick one up for a parishioner.
Music Opportunities

The IHM Choir provides music for the 10:15am Sunday Mass and rehearses on Thursdays from 7pm-8:30pm. The choir is open to all adults, no audition or singing experience necessary! Any parishioner (child, adult, or school student) with piano experience is eligible for free organ lessons through the parish. Please contact Michael at
mmills@ihmparish.org
for more information.
Catholic Books & Resources
If you're looking for inspirational Catholic books and CD's, please visit the kiosk in the narthex. We ask that you help cover the cost by using the envelopes provided and place them in the offertory collection. There are books that can be borrowed; they are labeled as such and located on the lower shelf.
Mass at Resurrection Cemetery
Please join us in praying for the dead. All Masses are at 10am at the Resurrection Cemetery Chapel, 2705 Regent St., Madison. May 29 Memorial Day Bishop Donald Hying, Jun 16 Msgr. James Bartylla.
Boys Retreat
Catholic High School Announcement
Chesterton Academy – Queen of Martyrs, a Catholic high school featuring a classical curriculum will be opening in Fall 2024 in Sun Prairie! An information session will be held Tues 6/13 at 7pm at St. Albert the Great in Sun Prairie. To register for the event, visit ChestertonQofM.com.
Grieving Mothers Retreat
Registration is now open for Seen, Known, Loved: A Virtual Retreat for Grieving Mothers. June 9 &10.
Register here
.
Totus Tuus in McFarland
Join Fr. Mark Foley and the Totus Tuus team for a summer catechetical program called Totus Tuus! It is for Catholic youth in Grades 1-12. It is dedicated to the proclamation of the Gospel and promoting the Catholic faith through evangelization, catechesis, apologetics, Christian witness, the sacraments, Marian devotion, and Eucharistic adoration. Grades 1-6 will take place at Christ the King 7/10-7/14 and grades 7-12 will take place 7/9-7/13. Volunteers are needed!
More information can be viewed here
.
Eucharistic Revival
Jesus is present in the Eucharist in His totality and He calls us to an encounter with Him in the Eucharist. It's time to answer Christ's call! In response to Christ's call, on Corpus Christi, 2022, America's Bishops inaugurated a National Eucharistic Revival
to renew and deepen our relationship with Jesus in the Holy Eucharist. The Madison Diocese joins this national revival with its own Congress. So, mark your calendar for our first-ever, Madison Diocesan Eucharistic Congress
– a joy-filled, spiritual weekend dedicated entirely to Jesus' Eucharistic glory and to our encounter with Christ. This will take place 9/29-10/1 at St. John the Baptist in Waunakee. There is no cost to attend.Visit the
website
for more details, see the weekend schedule and to pre-register!

Earn a rebate for IHM simply by buying gift cards to use for everyday purchases, instead of cash or credit cards. You get the full amount of the gift card you purchase AND the parish & school receives a rebate! RaiseRight gift cards are available using the
smartphone app
,
online
, in the parish office during office hours, or in the Narthex after Mass on May 27/28. Buying gift cards using the app is quick and easy! Stop by if you'd like assistance setting up or navigating this app on your smartphone.
---

Sanctuary Lamp: † Dave Showers
Tuesday May 30: † John Steinmuller


Wednesday May 31: † Kevin Hartlaub

Thursday June 1: † Evelyn Peterson

Friday June 2: Increase in Vocations

Saturday June 3 (10am):

Intentions designated

(5pm): Parishioners of IHM

Sunday June 4 (8am):

†

Holy Souls in Purgatory

---

Monday:

Genesis 3:9-15, 20/John 19:25-34


Tuesday:

Sirach 35:1-12/Mark 10:28-31


Wednesday:

Zephaniah 3:14-18/Isaiah 12:2-3, 4-6/Luke 1:39-56


Thursday:

Sirach 42:15-25/Mark 10:46-52


Friday:

Sirach 44:1, 9-13/Mark 11:11-26


Saturday:

Sirach 51:12-20/Mark 11:27-33




Sunday: Exodus 34:4-6, 8-9/2 Corinthians 13:11-13/
John 3:16-18
Please consider the
IHM Endowment Fund
in your will. Gifts to the Endowment Fund are invested – never spent – while the income from the fund is used to support the school and religious education programs.
Offertory Giving as of May 21
Offertory Goal YTD $723,076.92
Actual Offertory Rec'd

$
819,130.16