"Go, therefore, and make disciples of all nations, baptizing them in the name of the Father, and of the Son, and of the Holy Spirit, teaching them to observe all that I have commanded you. And behold, I am with you always, until the end of the age." Matthew 28:19
This Week's Holy Mass Schedule


Tuesday & Thursday: Noon
Wednesday & Friday: 8:30am
Saturday: 5pm
Sunday: 8:00am, 10:15am

Confession Schedule
Weekdays:
30 minutes prior to Holy Mass
Weekends:
40 minutes prior to Holy Mass


Eucharistic Adoration
Mary Morning Star Chapel


Mon-Sat: 6am – 8pm
Sunday: 4pm – 8pm


Children's Adoration:

Third Wed. Monthly, 3:30-4pm

24 Hour Adoration:

Last Wed Monthly, Noon-Noon*

*8pm Wednesday until Noon Thursday

will take place in the IHM Church

Parish Office Hours
Mon-Thurs: 9am-3:30pm

(closed noon to 1pm)

Friday: 9am – Noon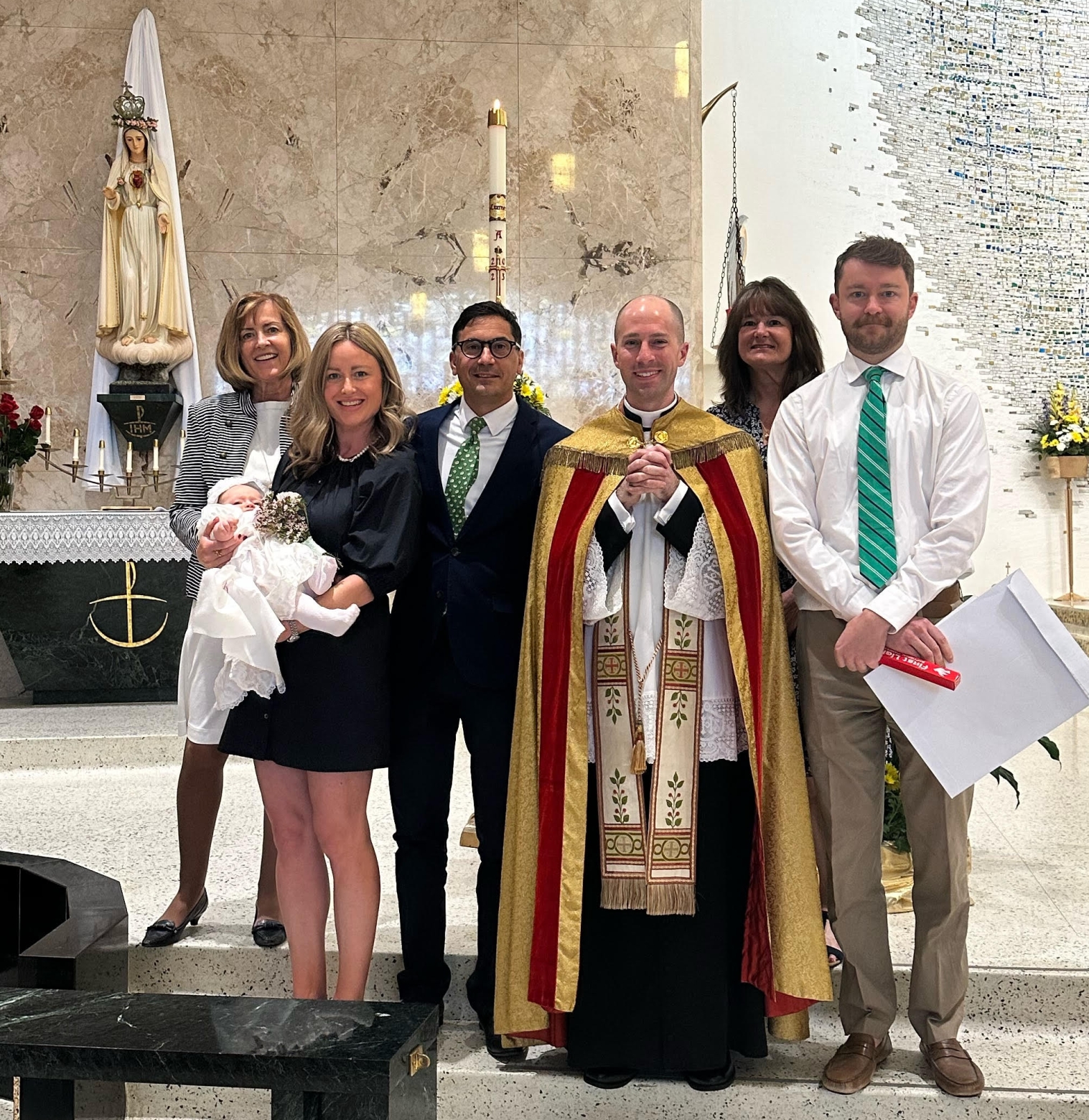 Congratulations and God's blessings to Grace Hausmann Vitale who was baptized last Sunday!
Mother's Day Rose Sales
Thank you to all who bought roses last weekend. We collected $711 for Wisconsin Right to Life. Your generosity is very much appreciated.
Usher Volunteer Needed for Sunday 10:15am Masses
We are especially in need of ushers and a few more leaders for our 10:15am Mass. Please
sign up here
.
Eagle's Nest
The Eagle's Nest will be open Sun 5/21 9-10am. It is where you can purchase, swap or donate gently-used uniforms. This is a great time to donate uniforms if your child is graduating or if they have outgrown them. Late summer is when we have the most customers, so please help us stock up the Eagle's Nest! We are most in need of IHM polos at this time. The Eagle's Nest is located behind the gym by the basketball hoops. Uniforms can also be placed in the bin outside of the school office.
Rev. Mark Foley's Ordination
We look forward to Rev. Mark Foley joining our pastorate in July. We rejoice with him in the Lord as he begins his priestly service to the people of the Diocese of Madison! We encourage our parishioners to attend:
> Fri May 26 7pm – Ordination to the Priesthood at St. Maria Goretti
> Sat May 27 9am – First Mass of Thanksgiving at St. Bernard in Madison
Luke House
Thank you again for another month of support of Luke House. The need continues to be great. Please consider serving or donating food. The May Luke House is on Wed May 24. Please bring any food donations to the back door of the rectory (next to the rectory garage) between 7am and 3:30pm. Historically, May is a difficult month for us to find a full roster of helpers to serve so if you have availability to serve, please do! The volunteer & donation signup sheet can be found
here
.
Graduation Mass
Our 8th grade graduation will take place on Thurs June 1. The parish is invited to join the graduates for Holy Mass at 6:00pm.
Tailgate Party Potluck
IHM School's "EdCo" (formerly known as Home School Association) is hosting a Tailgate Party Potluck on Fri June 2 from 5-7:30pm near the IHM playground. All parishioners are welcome to join! There will be outdoor volleyball and fellowship. Sign up to bring a dish to pass
here
and
RSVP here
.
Faith-Filled Adult Chaperones Needed
Faith-filled adult chaperones (21 years or older) are needed to accompany our high school students to Love Begins Here 6/18-6/23 at St. Henry in Watertown. Currently, we do not have enough chaperones to allow all of our registered teens to attend! LBH provides youth with an opportunity to encounter Jesus through a week long, overnight mission trip where they live in Catholic community and serve together at a common host site in our diocese. LBH began right here in the Diocese of Madison. It encourages high school students to live a life of faith, fun, and service! Adults will need to be Virtus-trained prior. Please contact Rebekah at
rscaperlanda@ihmparish.org
as soon as possible!
Vacation Bible School Registration

Strengthen your child's Catholic faith & grow in community this summer at Vacation Bible School (VBS)! It will take place at IHM Mon-Fri 7/17-7/21 for all children going into 4K-6th Grade! The theme is Cathletics: Training to be Champions for Christ! It is an Olympic/Sports-themed program, where children will be inspired to set GOALS and AIM for a commitment to excellence in their Catholic faith. We will need adult volunteers and youth volunteers (7th Grade and up)! **Please register your child by 6/1 to take advantage of this early bird pricing.** More information can be viewed here.
Clothing Drive
The IHM St. Vincent de Paul spring clothing drive is approaching! This is a great chance to clean out your closets before the summer season. Clothing donations can be brought to the St. Vincent de Paul truck in the church parking lot this weekend, May 20/21.
National Combined Collection
This weekend we will be conducting the National Combined Collection in our parish. Your help and support is critical. Envelopes have been inserted into the worship aid for your donation. This collection combines the following individual collections: Black & Indian Missions, Catholic Promotion of Authentic Human Development, Catholic Communications Campaign, Catholic Home Missions, Catholic University of America, Collection for the Archdiocese for the Military Services, and the Retirement Fund for Religious.
24-Hour Eucharistic Adoration
Adorers needed Wed May 31 – Thurs June 1. Please
sign up here
. A few spots remain!
Mary Morning Star Chapel
Our Lord desires closeness with you – whether it is by praying the rosary, talking to Jesus or sitting in silence. Adoration takes place Mon-Sat from 6am-8pm and Sun 4pm-8pm in the Mary Morning Star Chapel. Adorers are welcome to drop in. See the sign up sheet to view open times and make a weekly commitment. Current needs are: Tues 3pm and 5pm, Fri 7pm, Sun 3pm and 5pm. If the available hours do not work, please feel free to commit to a time that works for your schedule!
IHM Catholic School – Open for Enrollment
Enrolling now for the 2023-24 school year for grades K3-Gr 8! Our classrooms are filling up fast and space is first-come, first-serve.
Questions? Fill out this
inquiry form
or contact the school office at 608-222-8831 or
secretary@ihm-school.org
IHM Prayer Group

Would you like to join a prayer group to pray for the sick or needy? You would be notified of requests by email and your email address would not be shared with others. Do you know of someone in need of prayer? If you are interested, please contact Karen at the new parish email
prayer@ihmparish.org
.
Prayer Shawls
A group of IHM ladies have made beautiful prayer shawls for those experiencing a challenging life situation, such as: a critical/terminal illness, a pending surgery, bereavement, loss, or loneliness. The recipient may be male or female, young or old. The ladies prayed for the recipient while making them, hoping the prayer shawl will provide a tangible encounter of God's love and show our parish's care and concern. Please contact the parish office at
ihmoffice@ihmparish.org
if you would like to pick one up for a parishioner.
Music Opportunities

The IHM Choir provides music for the 10:15am Sunday Mass and rehearses on Thursdays from 7pm-8:30pm. The choir is open to all adults, no audition or singing experience necessary! Any parishioner (child, adult, or school student) with piano experience is eligible for free organ lessons through the parish. Please contact Michael at
mmills@ihmparish.org
for more information.
A Novena for Life 5/22-5/30
The month of May is truly a celebration of motherhood. And the Feast of the Visitation on May 31 celebrates the meeting of two mothers—Mary and Elizabeth—both with a child hidden within their wombs. In preparation for the Feast of the Visitation, join Catholics nationwide in praying A Novena for Life from May 22-30. Sign up to receive the daily prayers
here
.
Women's Care Center – Items Most Needed
The Women's Care Center has an urgent need of gently used Spring/Summer boys clothing (18 mos-5T), Amazon and/or Walmart gift cards in denominations of $50 or less. The gift cards will be used to purchase items to supplement their Crib Club. Donations can be dropped off at the Women's Care Center, 3711 Orin Rd, Madison Mon-Fri 9-5pm. The WCC is very grateful for our parish's support of the moms in our community.
Catholic Books & Resources
If you're looking for inspirational Catholic books and CD's, please visit the kiosk in the narthex. We ask that you help cover the cost by using the envelopes provided and place them in the offertory collection. There are books that can be borrowed; they are labeled as such and located on the lower shelf.
St. Vincent de Paul Young Adult Gathering
Young Catholic adults are invited to meet at St. Patrick's in downtown Madison for Cocktails and Catechesis Wed May 24.
Mass at Resurrection Cemetery
Please join us in praying for the dead. All Masses are at 10am at the Resurrection Cemetery Chapel, 2705 Regent St., Madison. May 29 Memorial Day Bishop Donald Hying, Jun 16 Msgr. James Bartylla.
Boys Retreat
Catholic High School Announcement
Chesterton Academy – Queen of Martyrs, a Catholic high school featuring a classical curriculum will be opening in Fall 2024 in Sun Prairie! An information session will be held Tues 6/13 at 7pm at St. Albert the Great in Sun Prairie. To register for the event or to get involved, please visit ChestertonQofM.com.
Apostolate for Persons with Disabilities Event
This year's Day at the Duck Pond will take place Tues 6/20 at the Madison Mallards game. A prayer service at 11am, will be followed by lunch and the game. The Apostolate for Persons with Disabilities aims at promoting the inclusion of people with disabilities in the communal life of the Church. The event is open to Catholics in the Diocese of Madison who are part of a disability or mental health ministry at the parish or diocesan level, such as: caregivers, people with disabilities, support staff, and people who desire to connect with others from the diocese and/or their parish community. Please see the
flyer
for more information!
Eucharistic Revival
Jesus is present in the Eucharist in His totality and He calls us to an encounter with Him in the Eucharist. It's time to answer Christ's call! In response to Christ's call, on Corpus Christi, 2022, America's Bishops inaugurated a National Eucharistic Revival
to renew and deepen our relationship with Jesus in the Holy Eucharist. The Madison Diocese joins this national revival with its own Congress. So, mark your calendar for our first-ever, Madison Diocesan Eucharistic Congress
– a joy-filled, spiritual weekend dedicated entirely to Jesus' Eucharistic glory and to our encounter with Christ. This will take place 9/29-10/1 at St. John the Baptist in Waunakee. There is no cost to attend.Visit the
website
for more details, see the weekend schedule and to pre-register!

Earn a rebate for IHM simply by buying gift cards to use for everyday purchases, instead of cash or credit cards. You get the full amount of the gift card you purchase AND the parish & school receives a rebate! RaiseRight gift cards are available using the
smartphone app
,
online
, in the parish office during office hours, or in the Narthex after Mass on May 27/28. Buying gift cards using the app is quick and easy! Stop by if you'd like assistance setting up or navigating this app on your smartphone.
---

Sanctuary Lamp:

†

Dave ShowersTuesday May 23: Holy Souls in Purgatory


Wednesday May 24: † Jessica Duffey
Thursday May 25:

†

Samantha Schwartz Friday May 26:

†

Fr. Thomas Sergerson


Saturday May 27:

Parishioners of IHM




Sunday May 28 (8am):

†

John DeYoung


(10:15am):

†

Joule Heck Mead


---

Monday:

Acts 19:1-8/John 16:29-33


Tuesday:

Acts 20:17-27/John 17:1-11


Wednesday:

Acts 20:28-38/John 17:11-19


Thursday:

Acts 22:30; 23:6-11/John 17:20-26


Friday:

Acts 25:13-21/John 21:15-19


Saturday:

Acts 28:16-20, 30-31/John 21:20-25




Sunday: Acts 2:1-11/1 Corinthians 12:3-7, 12-13/
John 20:19-23
Offertory Giving as of May 14
Offertory Goal YTD $707,692.31
Actual Offertory Rec'd $810,104.40